For my cross disciplinary this trimester, I've been working together with graphic design student Christina! Her project was about the TPP (Transpacific Partnership) and warning people of the dangers of this political deal. She approached me for illustrative work via my Facebook page and we exchanged e-mails and went from there!
The concept she has had from the beginning of the project is to use a sheep and wolf metaphor. Characterising the public as sheeps who are being misled by wolves (the government) into agreeing to this deal that we don't actually know that much about! So for her work, she asked me to create wolf and lamb characters that would display on a poster she'd be creating. Christina had created a pinterest board with imagery and designs that were similar to what she wanted to portray in the characters, so that I could see what style she was leaning towards.
Here were the original sketches I created for the lamb character!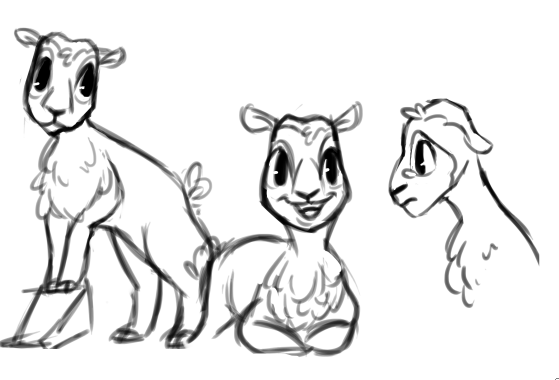 After meeting with Christina and getting approval on this art direction, she supplied me with a list of different facial expressions and emotions she wanted me to draw the lamb expressing, as she was originally going to print a full colour book with the lamb as the main character. The expressions I was given to illustrate were: happy, sad, scared, inquisitive, angry, excited. Here were the sketches I first created for these emotions.
Christina came back with me, asking for more variations of the inquisitive expression as that was the face that would be used the most. She also asked for some expressions that were on other angles as well. With this feedback, I went back and drew more expressions of the lamb.
After receiving approval for these designs, Christina sent me a basic collage of what she'd like her poster to look like. This is what it was:
After receiving this, I begun working on a stylised illustrated version of what she was looking for. As I worked on it more, Christina gave me various bits of feedback to refine her vision of what the final image would look like. Here's different stages of the process we went through to create the poster.
The final image here was two different versions of the poster that Christina wanted me to create. Showing two different sides of the barn and showing what's seen on each side. Below are the different sketches I used to figure out what the final wolf design should look like.
After this, Christina is sending the images to a friend of hers who is also in graphic design in order to create illustrator vector versions of these images. I created a cleaner lineart version of the lambs heads however these weren't used in the end.