For CIU and Final Project, Sianna Choc, Gloria Chung and I have been developing a zine that aims to positively represent LGBTQ+ individuals and place them in relatable situations. The goal is that people viewing the zine will be able to identify with the LGBTQ+ individuals within the illustrations even if they don't identify within that community themselves. We hope that through this method we can help people learn to accept the community a bit more. In order to help organise the project, I created a project plan to include all key details of project for reference. Here is the contents of the plan.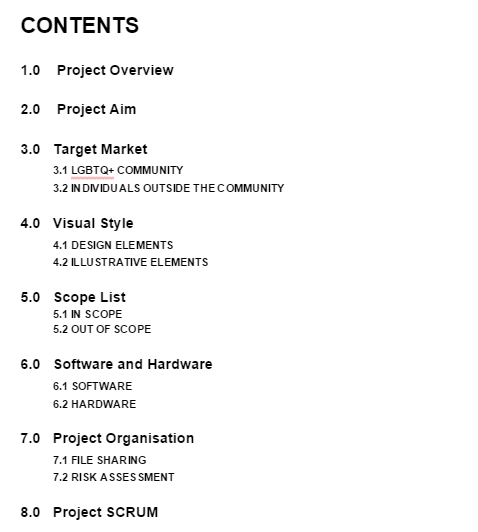 The project plan goes for 10 pages in total and includes imagery as a part of the visual style section of the plan.
Creating the Project Plan is important for a project as it means that all team members have a point of reference to go back to. So that when any certain details need to be reminded or confirmed in a meeting that there is a pre-prepared document that obtains all details.